Trip to Rio de Janeiro, Brazil: Carnival 2014! (LAND ONLY)
WHEN:
Thursday, February 27, 2014
WHERE:
Rio de Janiero, Brazil
PRICE: $1649.00 if purchased by 5 p.m. Friday, December 20
CONTACT US AT 202-686-5990 OR DC@PROSINTHECITY.COM TO INQUIRE ABOUT AVAILABILITY FOR THIS TRIP!**

Trip to Rio de Janeiro: Carnival 2014 (LAND ONLY)

February 27th – March 6, 2014

$1649 LAND ONLY

*Price based on double occupancy. See description for single rates.
* Check price is valid when all payments, other than the original deposit, are paid by check.
Included in the price:


* Pre-trip mixer at an exclusive DC location
* 5 nights of 4 star accommodations at the Windsor Martinique Hotel, located steps away from Copacabana Beach, featuring LCD tvs and a roof top patio with an ocean view.
* All hotel taxes and service charges
* Daily Brazilian breakfast
* Welcome dinner at Carretao Churrascaria
* Half day (4 hour) tour to Corcovado Mountain, including a train ride to the top!
* Carnival street guide, giving you access to the Carnival events happening around the city

Not Included:

* Optional tours not listed above
* Meals not listed above
* Tickets to the Sambadrome for the Samba Parade
* Porterage at the airport and hotels
* Travel Insurance
* Brazilian visa fees (paid directly to the Brazilian Consulate)

******************************************************************************



Let's Rock Rio at Carnival!



This party is so huge and spectacular it takes an entire city to host it! Only a magical place nicknamed "the Marvelous City" can contain this annual, nearly 14-day-long frolic that may only be compared to Mardi Gras; if you've enjoyed the best party on North America's shores, you simply must join your friends (now and yet-to-be) and experience the heart-pounding excitement that Rio de Janeiro has in store exclusively for Professionals in the City members!


Cited on New Year's Day by Portuguese explorers, this gorgeous coastal city has been drawing travelers to Brazil since 1502 and never has it been more popular as a destination – and never as rockin' as during Carnival! Rio is adored world-wide for its beautiful beaches, its high peaks, hills, and lush jungle forest greenery. Feel like wearing your bathing suit on a city bus? No problem in Rio, where staring is horribly impolite! Looking for nightlife? Rio's a place that knows no dawn! How about spontaneous street parades? Step aside and watch – or join in! Nowhere is this gaiety at a more frenzied peak than during Rio's pre-Lenten days of Carnival that enlivens every corner of the city's days and nights with street parties, glamorous balls, music and singing, day-long parades with brilliantly costumed musicians, dancers, magicians, singers, floats --- and all to that Rio-exclusive pounding samba rhythm. And above it all soars the magnificent statue of Christ the Redeemer high atop Mount Corcovado, arms spread wide, welcoming you to Rio and – who knows?—to Carnival itself!

Rio's equatorial climate is perfect for Norte Americanos longing for a break in February's bleak D.C. weather. Generally steamy and hot, Rio's nearness to coastal breezes and the protection of the Southern Cone of the continent brings an irresistible breeziness and dry weather to Carnival days and nights. With an annual average of 73 degrees (F), the setting couldn't be more inviting!



This tour will sell out quickly, so take a look at its itinerary and book your place ASAP!



Carnival Samba Parade



******************************************************************************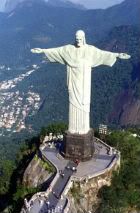 Daily Itinerary:

Thursday, February 27: We're outta here! We'll depart from D.C. for our overnight flight to Rio de Janeiro.

Friday, February 28: We'll arrive in Rio and proceed to our splendid hotel where the rest of the day is yours to stretch out, unpack, and relax. Tonight we'll enjoy a "Welcome to Rio" dinner at Carretao Churrascaria.

Saturday, March 1: Today we'll have breakfast at the hotel, then it's "all aboard" for a van and train ride up 2,310-foot Corcovado Mountain for a half-day tour. The giant Christ the Redeemer statue is one of the most photographed sites, religious or otherwise, on Earth and even made an appearance in CSI Miami. Regardless of your faith, the love of Rio's people for their Lord is a spiritual inspiration. After returning to the hotel, take some time to rest up and get ready to go to the Lapa District for the group nightlife tour – and don't forget to check your "look", 'cause nowhere has more life in its nights than Rio during Carnival! We will be going to the Rio Scenarium, rated one of the top 10 best bars in the world by the London newspaper The Guardian. Your first 2 drinks are the house!
(Optional nightlife tour includes round trip hotel transfers with an English-speaking guide, entrance fee, and 2 free drinks, $105 per person)

Sunday, March 2: This is it – tonight is the world-famous Samba Parade! In Brazil – Rio in particular – the samba is much more than an art form; this is a dance that represents the heart, the pride, and the soul of the Brazilian people. Each Samba School guards its reputation through dazzling competitions that makes Dancing with the Stars pros and amateurs alike look like they're asleep! While Brazil is also famous for the bossa nova and the choro, only the samba has truly become a national treasure. Tonight Rio's finest samba dancers and musicians will engross you with a parade that you won't be able to take your eyes off of! The precise, sensuous, mesmerizing movements of the dancers, their traditional and colorful costumes and oh, that Latin music! Forget about "toe tapping;" your entire body will be dancing…..and dancing…..and dancing! But don't feel embarrassed – on Samba Night the whole city is a dance-all-night festival of sights and sounds you will simply never forget!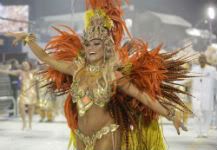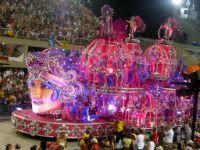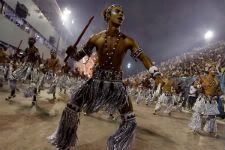 Monday, March 3: Whew! Whether you've been dancing, eating, singing, drinking, laughing or (hopefully!) all of the above, this is a day of recovery. Sleep in extra-late, savor a leisurely breakfast or lunch at the hotel and then the day is yours. Lay on the beautiful beaches of Copacabana, stroll the streets of Rio for a special souvenir, visit the large emerald-green Botanical Gardens that have beckoned visitors to Rio since 1808, sample some authentic Brazilian street fare while appreciating the musicians' enthusiastic talents – whatever you choose to do, thrive on the Carnival spirit at the party that never stops and the beat always goes on!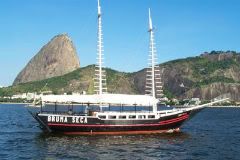 Tuesday, March 4: If you signed up for the Guanabara Bay cruise, this is your day! It's a beauty, this one; easily South America's loveliest sheltered bay, where the waves are gentle and the breezes have a cool, gentle effect on the body and the soul. The best way to enjoy it is boat-side with local English-speaking guides that can answer all your questions about this pristine natural waterworld – except for why everyone else in Brazil hasn't moved there yet! The tall, bullet-shaped Sugarloaf Mountain juts out of the bay across from the Redeemer's statue almost as if placed there by a Divine hand. Let your eyes and thoughts drift as you sip Rio's "signature" drink, the caipirinha – a refreshing exotic mix of sugarcane liquor, fresh lime juice, sugar and lots of ice. It's said that this concoction, not the Girl From Ipanema, makes folks go "Ah!"

Tonight we will head out for the optional farewell dinner at Plataforma Restaurant that includes a Samba performance! After enjoying a delicious dinner, you'll be entertained by brilliantly costumed dancers and musicians, in the largest and most traditional spectacle of authentic Brazilian folklore. A great way to end an amazing week!
(Optional Guanabara Bay Cruise $60 per person; Optional dinner/show $120 per person)


Wednesday, March 5: Have one last wistful breakfast at our hotel as we prepare to bid farewell to the Miraculous City and its even more miraculous Carnival. Before we say adios to Rio, we have today to shop, explore, even dance if it suits you and your new friends! Or, if you signed up in advance, take a guided tour of one of Rio's favelas ("Shantytowns"). In the glittering midst of Rio during Carnival, why would you want to take a tour of a notorious big-city slum? You can do this in D.C., right? Not exactly. What you don't yet know is that Rio's favelas aren't merely dank and perilous places; these original parts of Old Rio are situated in lovely hillside shady locations where the American concept of eminent domain is unknown. Here you will find Rio's oldest original food, music, joviality and even architecture that pre-dates metal and concrete, where the drug lords may rule and the people are poor, but where there is an authenticity found nowhere else in Rio. Far away from the modern samba schools is the very rhythm that made them famous. Pay heed to our guides and don't sell yourself short of still another "first" you'll find in Rio. (Optional Favela Tour $53)

Tonight we'll depart for home, where winter's chill still reigns. But you'll bring with you some of Rio's warmth and bright sunshine! In the Miraculous City, year-round residents say that someday perhaps Carnival will cease as all galas must, but Rio de Janeiro endures.



Vaya con Dios!


******************************************************************************
Group Flight Information from Washington, DC (Reagan National Airport):
American Airlines

**The pre-reserved space on the group flight has sold out. We work closely with a wholesaler that can still book space on this flight. Contact us for a quote.**

1. FEB 27 WASHINGTON DC - MIAMI 04:45PM 07:30PM
2. FEB 27 MIAMI - RIO DE JANEIRO 08:25PM 07:00AM (FEB 28)

3. MAR 05 RIO DE JANEIRO - MIAMI 09:05PM 04:00AM (MAR 06)
4. MAR 06 MIAMI - WASHINGTON DC 07:40AM 10:05AM

******************************************************************************

Roommates: If you would like us to pair you with a roommate, please indicate in the "comments" section of your order form. We do our best to pair roommates, although there is no guarantee. If we are unable to pair you, you would need to upgrade to a single supplement.

Single Supplement:A single supplement is available for an additional $850. If you would like to sign up for a single supplement, please indicate this in the comments section of the order form.

Land Only: This trip is land only. Airport and hotel transfers are only included in the cost if your flight arrives in Rio prior to 7:00 a.m. on February 28, and departs Rio no sooner than 9:05 p.m. on March 5.

**Please contact us for assistance in booking a flight**

Baggage Information: American Airlines allows 2 checked bags, not weighing more than 70 lbs. each, and one carry-on bag. For more information on the American Airline baggage policies, please Click Here.

Passport Information: A valid passport will be required of all passengers (please verify that your passport will be valid six months beyond your returned date to the United States). Please complete your Trip Information Form (will be e-mailed to you after registration) immediately upon receipt and return to Professionals in the City for verification.

Visa Information: You will be responsible for obtaining a Brazilian visa. Please apply for your visa 6 weeks before departure. You will need a valid passport to obtain your visa. Note that you must contact the consulate of your jurisdiction. There are Brazilian Consulate Generals in Atlanta, Boston, Chicago, Houston, Los Angeles, Miami, New York, San Francisco, and Washington, DC. Please check the processing time with the local Consulates or with CIBT if you choose to apply for your visa through their service, as Consulates in Los Angeles and San Francisco are reporting processing times of up to 40 days.

Insurance Information: Professionals in the City strongly recommends that you purchase travel insurance to cover many personal emergency situations that might arise. We recommend that you purchase travel insurance from Travelex Insurance Services, a reputable travel insurance company with extensive 24-hour emergency assistance services. For more information, or to purchase travel insurance directly from Travelex, please Click Here to be directed to the relevant page of the Travelex website.

All itineraries and accommodations are subject to modification. The prices listed are in U.S. dollars per person and based on double occupancy.


Email this event to a friend

Print This Event